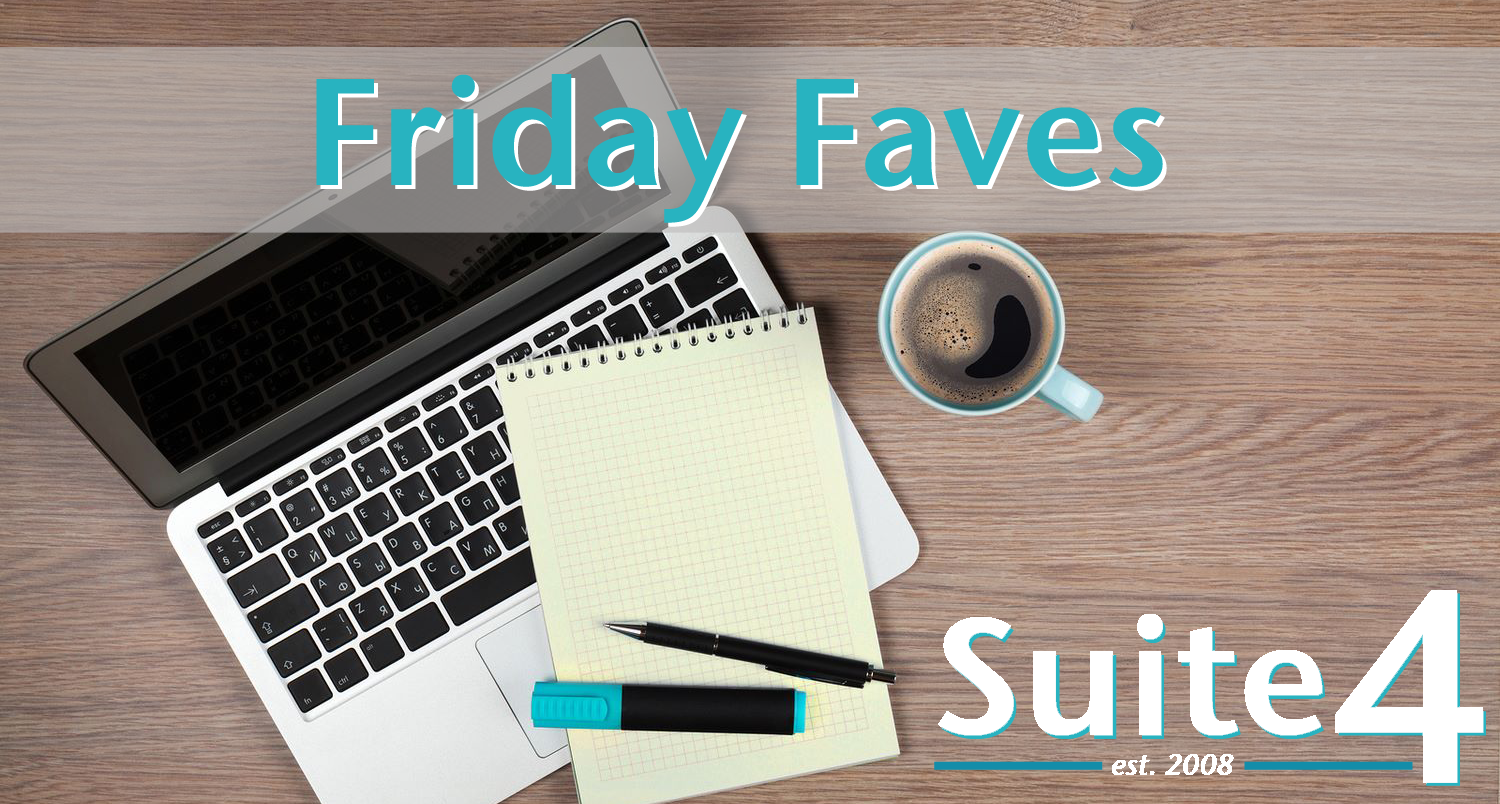 Friday Favorites: Focusing on Company Values
But First, a Note From our CEO, Rachel
What does a company stand for? What values do its employees embody? What do its products contribute to the world? These are all questions I set out to answer when I first started looking at the type of company I wanted to build.
When I set out to create the guiding principles that help to define how Suite 4 should behave in the world, I started with myself. What was important to me? I knew eventually I would hire employees, and I wanted to have a clear idea of what Suite 4 stood for before that happened so I could make sure the right people joined the team.
I asked myself, "Why did I start my own business?" The answer was simple. I wanted to spend more time with my family. I knew that running my own business and calling the shots, meant a certain level of freedom so that I could spend more time with my husband and our three children. Of course there's always the dream of financial freedom when you are your boss as well. And with financial freedom comes the hope of more fun because you can afford to do more of the things you love.
Those were all the guiding principles that led me to form the three core values of Suite 4: Family, Freedom and Fun.
Now, it would be stingy for me to hold onto those core values without sharing them with others. With every employee that has joined the team at Suite 4, I share our core values. I tell them that these are very important to us. That if they want or need to leave work early to be with family or friends, I support that. I say that vacations are unrestricted. That if they need the freedom to work from home (or from the beaches of Mexico) occasionally, I support that. In the office we infuse our entire work-life with fun.
Finally, I decided that sharing our core values with our clients was just as important as owning them internally. We are a marketing agency after all. Our job is to help small businesses grow. We're just like them. We wear a million different hats and we wake up at 3am with the sweats worrying about one aspect of the business or another. We get it. And we want to free our clients up just as much for "Family, Freedom and Fun" too.
I hope you enjoy some of the ways this impacts my team by reading their stories below. Please comment below to share your experiences (good and bad) with company values and how they have impacted your life.
Audrey's Local Favorite
One of the beautiful things about loving the people you work with and the street you work on is that it provides a great way to have some fun. The bar across the street from our office, Old Oak, puts on a trivia night every other Wednesday. My co-workers and I have made it a habit of putting together a team and trying our hand at trivia on these nights. While we may not be the best team in the bar, we certainly enjoy ourselves! I have grown to love hanging out at Old Oak, whether it's with the Suite 4 team at trivia night or with my friends at other times, it creates a great atmosphere to have a good time.
Devon's Favorite App
Social media is always live. For the most part, Facebook and Instagram never sleep. Of course, your target audience is more likely to be active at 7pm than they are at 1am but it's safe to assume someone is on their phone at any given point. That doesn't mean you should (or need to) be on all the time. Here at Suite 4, we really value our freedom outside of work but know our posting can't take the same breaks we do. So, to truly enjoy our weekends and non-marketing adventures, we use a wide array of scheduling apps.
A few of my lovely coworkers have mentioned their favorite scheduling apps in previous Friday Faves blogs. We all have a fondness for getting things done efficiently and effectively. The truth is, however, that not all scheduling apps are created equal. Some meant for multiple social media platforms work extremely well for certain networks but not as well for others. That's why I prefer using a different app for each specific platform. As a quick note, because I like to test drive different apps and am always trying new ones, I don't try any that cost money. I also have an iPhone so I can't speak to how any of them work on Android devices. With those disclaimers out of the way, here are my two favorite free apps to schedule social media posts in advance:
Latergramme is by far the most efficient scheduling tool I've used for Instagram. It auto-copies any text to my clipboard so I don't have to type out captions twice. It also sends a notification when it's ready to be scheduled so all I have to do is swipe and post. My favorite feature, though, is the ability to manage multiple accounts without having to sign out. Because I post frequently to both my personal and Suite 4's Instagram pages, it's really nice not to have worry about gramming a picture to the wrong account!
For Facebook, I use Facebook Pages Manager (for iOS and Android).
Sometimes, it's best to go straight to the source. Just as I use Facebook itself to schedule posts on my computer, I love the Pages app. The interface is intuitive and it's the only app I've experienced that posts reliably, with all my links and pictures perfectly in place. What makes Pages Manager superior to your regular Facebook app is that it only connects to the special pages (like your business) and not your personal page. This helps me keep everything separate between the different pages I manage. Not to mention, it's also the single best way to check a page's notifications on my phone.
Chase's Favorite Video
This week, I came across this video which describes how a perfect work-life balance is impossible. This video was very educational and put into perspective the fact that, as humans, we can't try to do everything exceptionally well. There is nothing wrong with being average at some things because you chose to invest more of your time in being with your family.
I suggest watching this whole video here.
Miles' Favorite Inspiration
I didn't really get to know my father that well until his switched jobs when I was fifteen. Until that point, my interaction with him was dictated by the hospital. The profession in which he excelled had an inverse relationship with the amount of time spent at home. Away for long, often odd, hours regardless of weekends and holidays. Most nights he would get home at 6:30, but have to leave at 9. Or, he'd get home at 8, but have to leave at 3:30. On top of that, he decided this was the best time to pursue a Master's degree. My father is a work ethic warrior though that ethic labored him into one corner. The balance in his life weighed heavily towards his occupation and this, in turn, weighed on him.
Increasingly burnt out and exhausted, and after 17 years on the job, he decided it was time for a change. His new position held him to a strict schedule: get in at 9, leave at 5. Every day. Weekends off. Unrestricted vacation days. For somebody who had never worked regular hours in his life, the simplicity of it jarred him. His work no longer dictated by crisis, he could choose with regularity the amount of time he spent on each project.
I came home from soccer practice one day to find him reading on the couch. When I asked why he wasn't at work, he looked up from his book and said, "I took a vacation day. I've always wanted to be the first one home and this seemed like a good way to make sure I won."
Worth ethic is important. Balance is important. Family is everything.