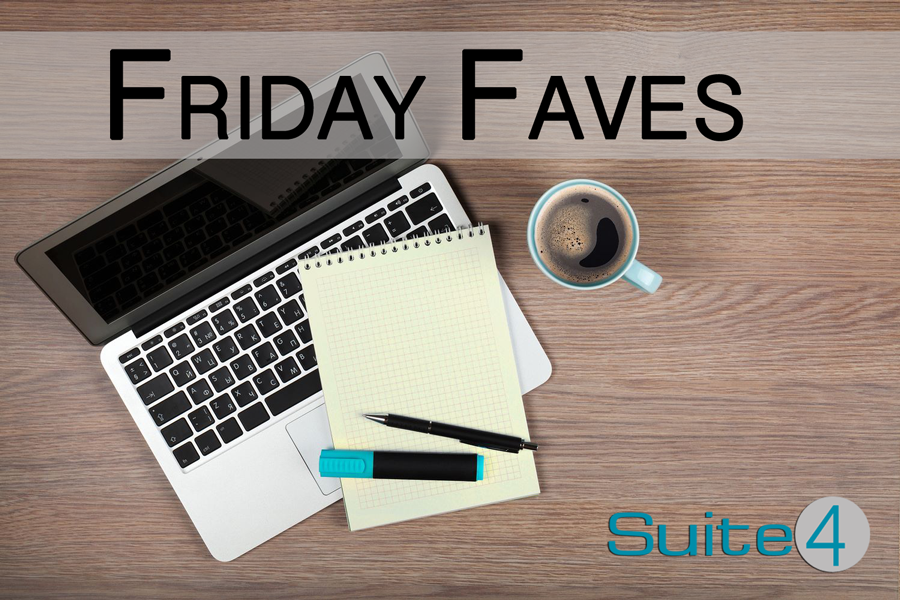 Friday Favorites: The Best Marketing Blogs, Hacks and Tweets of the Week
As part of our job, the Suite 4 team spends a lot of time scouring the Internet for the best marketing tips and tricks for our clients and ourselves. In the first of this new weekly series, we've picked out our favorite blog, time-saving hacks and tweet inspiration so you can benefit from the same information as our team!
Audrey's Favorite Blog
The HubSpot blog "Marketing to Millennials" caught my eye this week, probably because it's basically talking about me. I was curious to see what they were saying about me and my generation and whether it's true. Turns out, it is! Every point of this article rang true for me. It's exciting to see how companies are targeting us without making us feel like they're shooting a bunch of advertisements our way. Companies are starting to build relationships with us, even if it's just through social media. They're providing content for us to be involved with and to share. This builds our trust for the company without us really recognizing it at first. But when it comes time to buy something, I know I will go to the company that I feel like "I know" over any of its competitors that I'm not familiar with. This is a wonderful strategy for marketing! I say this not because I work at a marketing agency but because I am a Millennial. I've experienced the power that inbound marketing has – and it's not a manipulative power that we're used to. It's friendly and that's why it works.
Violet's Favorite Time-saving Hack
If you haven't already heard, scheduling programs have become a MUST in the world of social media marketing. This week, I've decided to highlight Buffer, an easy to use scheduling tool that can help you jump-start your business and/or blog. Using Buffer, you can schedule tweets, status updates and more, weeks in advance! Not having to manually post throughout the day will give you the opportunity to really engage and connect with your followers. Instead of just focusing on getting out content, you can open discussions and create a more personal connection.
Devon's Favorite Inspiration
My intention was to highlight a business, large or small, whom I noticed was killing it on social media this week. I was going to point out some tips we can all use in our own daily social media marketing. It was going to be positive and aspirational. But then, Tinder's verified Twitter account had a complete meltdown on Tuesday afternoon.
In case you haven't read it on the New York Times, Buzzfeed, Wired, or a whole host of other sites this week, Tinder did not seem to enjoy a recent article Vanity Fair published. Now, I'm not going to get into the specifics of the article or whether Tinder should have taken such great offense (though it was certainly well-written and entertaining) because that's not really the point. The main takeaway is really how not to handle negative feedback over social media.
In the span of just three minutes, Tinder's Twitter manager posted over 30 tweets. They began directed at Vanity Fair and the article's author before spiraling out to defend the good the company does in the world through its dating app. In what I'm assuming was meant to be an ill-advised press release, each 140-character or less tweet exposed all of the company's insecurities. Rather than taking the perceived slight in the article with a grain of salt, they became defensive and opened themselves up to be the butt of the Internet's jokes. They also created even more publicity for the initial article.
Responding online to negative feedback, whether real or imagined, is tricky. However, adding in a little humor and self-awareness could have saved the company from this PR mess. For some positive inspiration look at how Arby's reacted to Jon Stewart's last day at The Daily Show. They embraced his frequent insults to the fast food chain and recognized that joining the joke would only bring good will. They even put extra money into the tweet and promoted it!
So in the face of gentle, general scorn, be more like Arby's instead of Tinder. And, for what it's worth, Tinder has since released a statement in which they admit they "overreacted." They also have only tweeted twice.
What's your favorite thing you've read this week? Share it with us in the comments!
If you have any recommendations for what should be featured in next week's Friday Favorites, we want to hear that too!